#4500 OE Puck Series 24K SuperGlide for 2020-2024 GM trucks
The #4500 OE Puck Series Heavy Duty SuperGlide is designed specifically for 2020 and newer GM trucks with factory pucks.  Accurately tested to exacting SAE J2638 standards, this fifth wheel hitch tows a gross trailer weight of 24K and easily out-performs other foreign-made hitches of the same class.  With even beefier components to accommodate heavier loads than the other OE Puck SuperGlides, the 14" of travel quickly and easily moves your trailer away from your cab during turns and backing up with ease!
This direct attachment hitch mounts directly to your truck's OE puck mounting points...NO ADAPTER RAILS NEEDED!  Not sure what mounting system you already have or need?  Click here for an overview of all our mounting system options!  And be sure to check out mounting systems that feature Clean Bed Technology!
SuperGlide is the only real solution to safely and efficiently regain that 90º turning capability.  It's fully automatic, so there's no getting in and out of your truck to throw levers before and after turns like you have to do with other manual slide hitches.  SuperGlide quickly moves your trailer away from your truck cab without you having to do a thing! No anticipation...just get in and drive!
The OE Mounting Post Assemblies are completely removable for easy removal/installation of the hitch.  Simply unpin handles, rotate 1/4 turn outward and lift the hitch out of the bed. NO TOOLS NEEDED!  Premium hardware, like the use of castle nuts, allow for finer adjustments of the OE puck handles for ease of installation and fit!  This SuperGlide is adjustable front-to-back to center it over the axle.  See how OE Puck hitches work here!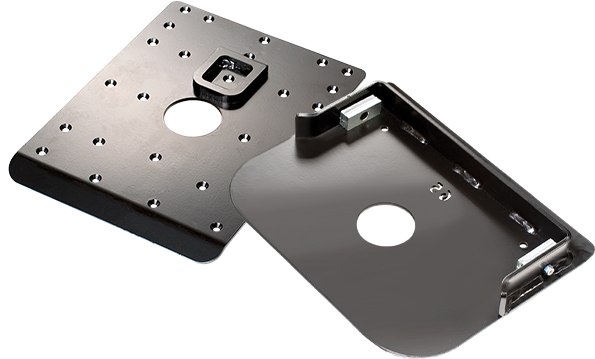 A Capture Plate is a required component of the SuperGlide fifth wheel towing system. This plate is attached to your trailer's skid plate.  When you're hooked up into your SuperGlide hitch and ready to tow, it isolates the rotation of your trailer's king pin in the hitch.  Movement and rotation is then transferred to the automatic cam action of your SuperGlide hitch, moving it away from the cab along its rails to prevent the trailer from contacting the cab of your truck!  Most applications slip over the king pin and are held in place by a set screw; quick install and removal for your convenience. Visit the Quick Connect Capture Plate Fit Chart  to find which is needed for your trailer/hitch combination.
For a more in-depth look at how SuperGlide hitches work and why they are your best choice for short bed trucks, click here.
And the hitch plate is your first connection to your trailer.  Ours have fully automatic locking jaw and the only self-locking handle on the market.  To see why our hitch plate is a "head above the rest," click here.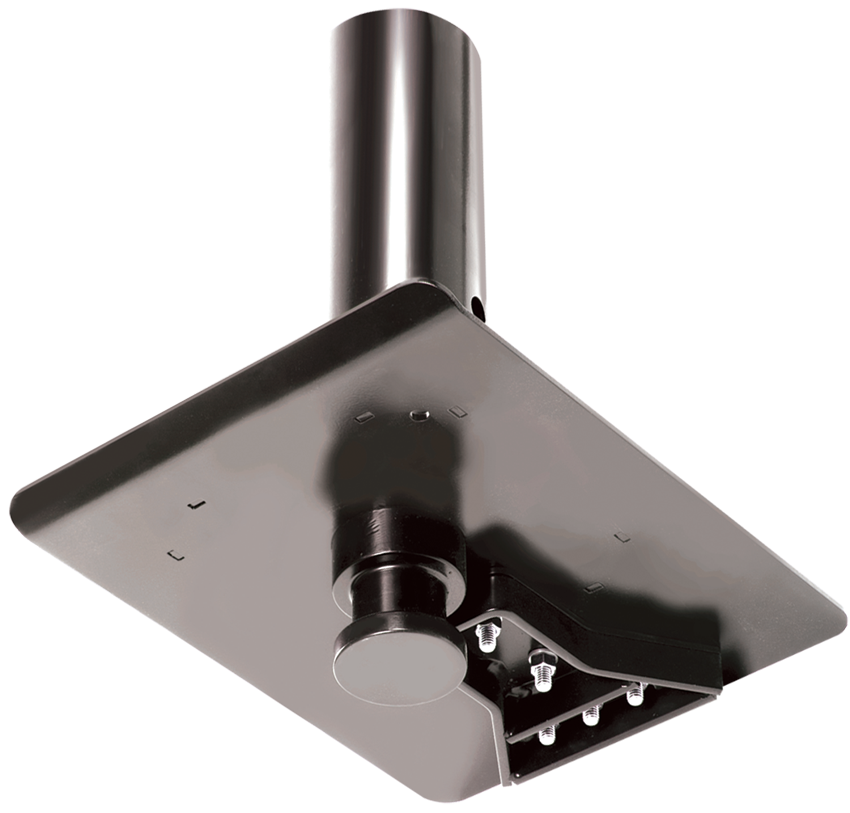 CONVERT YOUR GOOSENECK TO A FIFTH WHEEL!
Do you own a horse, cargo, stock or gooseneck trailer and a fifth wheel trailer?  Tired of moving your hitch from a gooseneck to a fifth wheel when you want to go RVing? 
We have a solution for you!  The #4424 Horse Trailer Adapter lets you swap out your trailer's coupler with the #4424 adapter and quickly convert your gooseneck to a fifth wheel. 
Works with all ISR Series Super 5th and #3900 Single Point Super 5th.  Features a removable wedge for use with all SuperGlide automatically sliding hitches too!
Description
24,000 lbs. max gross trailer weight towing capacity

6,000 lbs. max trailer pin weight capacity

14" of fully automatic slide

Direct mount, automatically sliding fifth wheel hitch for trucks with OE puck mounting points

Dual articulating head moves side-to-side and front-to-back during towing for a smoother ride

Hitch head easily removable with pins and clips...no tools needed

Locking jaw closes automatically around king pin

Latch handle locks automatically when locking jaws are engaged

No secondary locking devices to engage means no reaching over high-sided truck beds to get dirty

Extended handle keeps you out of the bed

Precision, laser cut jaw components cradle the trailer's king pin 140º for a secure, tight fit

Tight fitting parts give you the best ride possible

Adjustable tension bolt prevents bumping or chucking

A Capture Plate is required to activate the sliding cam arm

Hitch comes fully assembled

Hitch stands 18.38" to top of hitch plate

#4424 Gooseneck/Horse Trailer Adapter available
SAE J2638 tested

Made in the USA
The SuperGlide is specifically designed for short bed trucks to provide additional clearance between the truck's cab and the leading edge of the trailer during turns.  SuperGlide is designed to allow your truck to turn 90 degrees to your trailer, however, other variables do come into play, such as variables like trailer width, squared off or rounded corners, and the location of the potential point of trailer-to-cab contact. 
Additional limitations may also exist when using trailers wider than 96" and the correct truck/trailer combination must be considered.  Always check with your dealer prior to purchase or contact PullRite Customer Service for information on potential clearance issues.  NOTE: The #2300 ISR Series SuperGlide and #2315 OE Puck Series SuperGlide offers additional sliding travel and should be considered when towing trailers greater than 96" wide.
Limitations / Notes:
The SuperGlide hitch for short box trucks is optimally designed for trailers with a King Pin located even with, or ahead of the leading edge of the trailer (measured at the corners of the trailer). There are many variables that can influence the ability to make a full 90° turn; including the trailer width, trailer profile, radius corners & truck cab profile. In many cases, even if the king pin is located under the trailer, behind the leading edge of the trailer, the SuperGlide may allow 90° turns - but NOT IN EVERY CASE.
If your trailer king pin is behind the trailers leading edge, we recommend you download the following document to help you determine proper clearance. If you need additional help, please don't hesitate to contact our Customer Service Department by email or call (800) 443-2307.
A towing system includes each vehicle and component involved in towing. Each item in your towing system has a capacity or weight rating.  You trailer has a Gross Vehicle Weight Rating, or GVWR.  Your truck has a tow capacity, payload capacity, and possibly more. In addition, your fifth wheel hitch has a weight rating.  This weight rating must be at, or above, the GVWR of your trailer for you to tow safely.  In addition, if your truck can tow larger loads (has a larger capacity) than the rating of your hitch, your system is only safe to tow loads at the lower rating, that of the hitch.
Your mounting kit also has a weight rating, just like your fifth wheel hitch. Many times, these rating are designed to match. But, this is not always the case. Your mounting kit may be higher rated then your fifth wheel hitch, but it also could be lower depending on the components involved.  The lowest rating of any one component in the system becomes the rating of the entire system. If your mounting kit is rated to 18,000 lbs., and your hitch is rated at 24,000 lbs., the weight rating of the entire system will not be above 18,000 lbs.  Other components in the system could lower the actual system rating further.
It is the end users responsibility to ensure a safe towing experience. To this end, it is your responsibility to ensure that the truck, trailer, hitching components, and all other items involved are rated or have a capacity sufficient for the loads involved.
Capacity (max. trailer weight)
24,000 lbs.
Pin Weight Capacity (max. vertical weight)
6,000 lbs.
Hitch Plate Weight
40 lbs.
Overall Dimensions (inches)
29"W x 28"H x 19.5"L; box
Finish
Black, powder coat
Shipping Specs
Shipped in one box, fully assembled
Videos
OE Puck SuperGlide Installation
SuperGlide, fully automatic sliding fifth wheel hitch for short bed trucks!
PullRite's Exclusive, Fully Automatically Locking Hitch Plate. Watch how it works to keep you out of the truck bed!
Consequences of Towing a Short Bed Truck WITHOUT a SuperGlide!