2020 Chevy OE Tow Prep Kit Solutions NOW!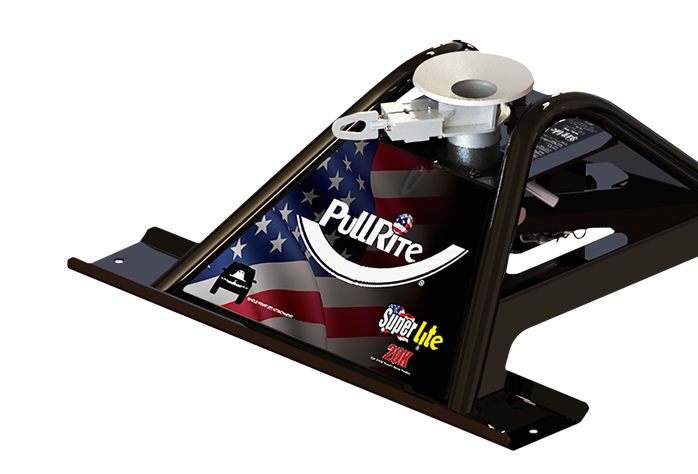 2020 Chevy/GMC HD Trucks have changed!  No worries!  PullRite has two hitches that will match up perfectly to this new truck!
Recently, General Motors released their all new line up of ¾ and 1 ton Silverado and Sierra trucks.  These trucks are available with an all new factory installed Towing Prep Kit, that includes gooseneck and puck mounts.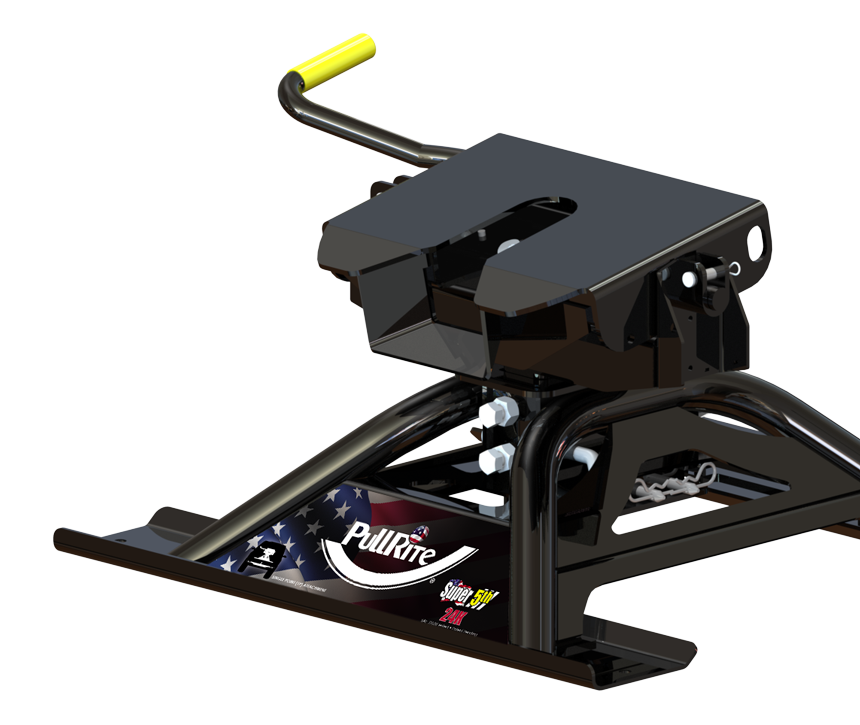 While all hitch manufacturers, PullRite included, are scrambling to design a new hitch platform that will fit the new puck configuration, we have recently tested both our #2600 SuperLite and our #3900 Super 5th and found BOTH WORK exceptionally well in the new Chevy/GMC truck!   These hitches mount directly to the factory installed gooseneck hitch when using PullRite #4437 OE Gooseneck Ball or any other OE gooseneck ball (except B&W OE Ball w/ bale handle).
Both hitches offer the unique flexibility to tow either a gooseneck or king pin-style trailer without ever needing to change or remove the hitch.  Explore PullRite's equine and gooseneck options, or click here for a video on how these two hitches work as gooseneck!
PULLRITE = PROBLEM SOLVED!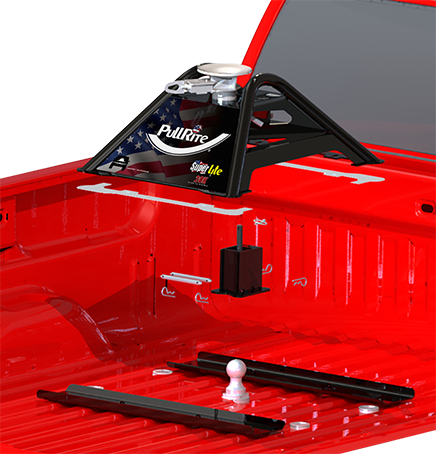 PullRite's line of single point attachment, dual articulating fifth wheel hitches mount directly to your truck's OE puck mounting system or any other frame-mounted gooseneck hitch with a 2-5/16" ball.  Lightweight and stronger than aluminum, the base is made from high grade American steel.  With an adjustable offset base, our Single Point hitches compensate for most "forward of the axle" gooseneck ball installations and move the hitching point of the trailer away from the cab.  Features multiple height adjustments for additional bed side clearance.  

All Single Point hitches rock forward and backwards when stopping and starting.  Over time, this will damage your bed.  PullRite Bed Saver Rails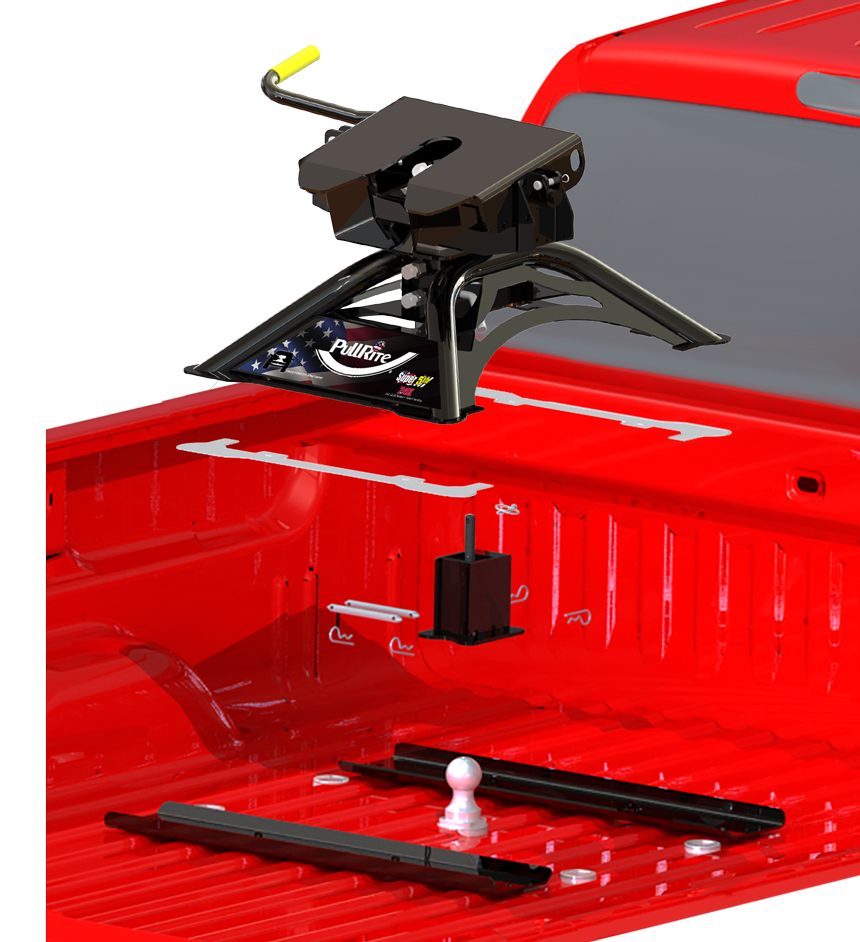 minimize this damage because they are not welded to the hitch base, allowing them to lie flat to the bed when the hitch moves.  Undercoated with a special bed liner material, our Bed Saver Rails help prevent hitch rotation and corrosion of aluminum beds.  

Our optional Gooseneck Adapters (#4424 and #4443) let you quickly switch between towing your fifth wheel and your gooseneck trailer with the same single point hitch!  Features Clean Bed Technology (CBT).  All hitches tested to SAE J2638 standards.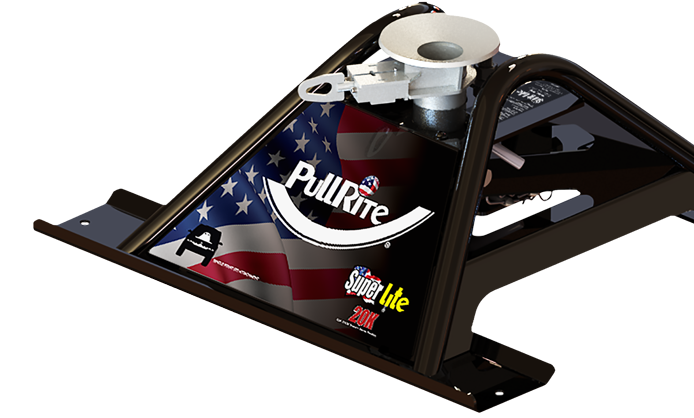 The #2600 SuperLite's King PIn Adapter converts the fifth wheel trailer's king pin to a ball and turned the hitch plate into a funnel, making it the easiest hitch on the market to hook up.  Totally visible from the cab, you simply drop the trailer's converted ball anywhere on the diameter of the funnel and lower your trailer!  The Remote Latch system locks/unlocks the ball into funnel and keeps you out of the bed–and there are no secondary locking devices to engage.
The big disadvantage to gooseneck towing is that the driver cannot see the ball while hitching up since they are installed low on the floor of the bed.  And if you also own a fifth wheel trailer, there's no easy way to tow both types of trailers with the same truck.  Now you can with SuperLite!
The uniquely designed King Pin Adapter gives you an additional 3.5" of rearward offset so your turning radius in a short bed truck will be tighter, giving you more cab clearance!
See how it works by clicking here!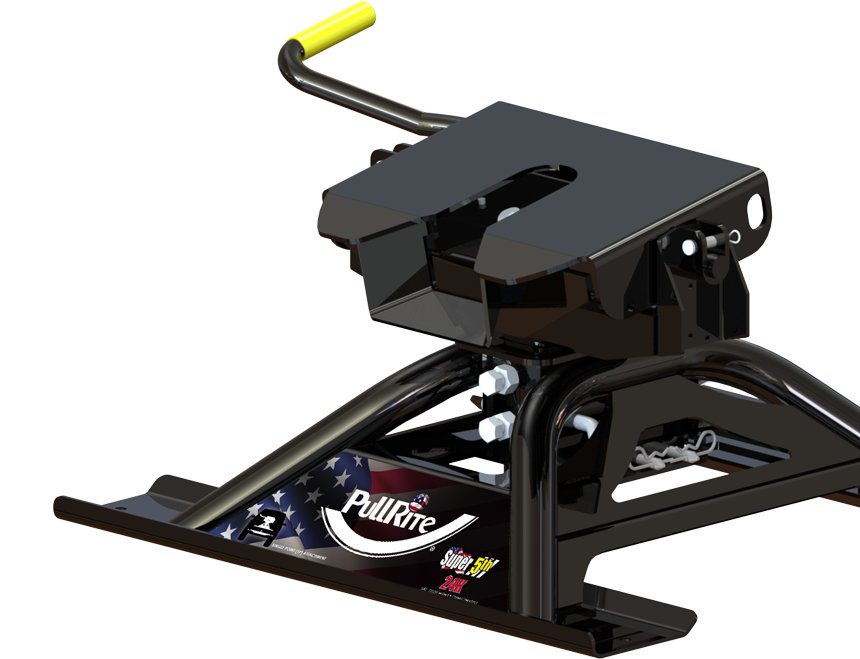 The #3900 Super 5th Single Point Attachment fifth wheel hitch features our dual articulating, automatically-locking hitch plate is easily removable with just two pins and clips, unlike other hitches on the market that require tools for removal.  Features the only self-latching handle on the market, keeping you clean and out of the bed with no secondary locking devices to engage.  Lightweight and stronger than aluminum, the base is made from high grade American steel.  Mounts directly to your truck's OE puck mounting system or any aftermarket underbed gooseneck with a 2-5/16" ball.  The Gooseneck Ball Receiver places hitch center of axle and is adjustable rearward to keep it centered. Multiple height adjustments for bed side clearance.
See how it works by clicking here!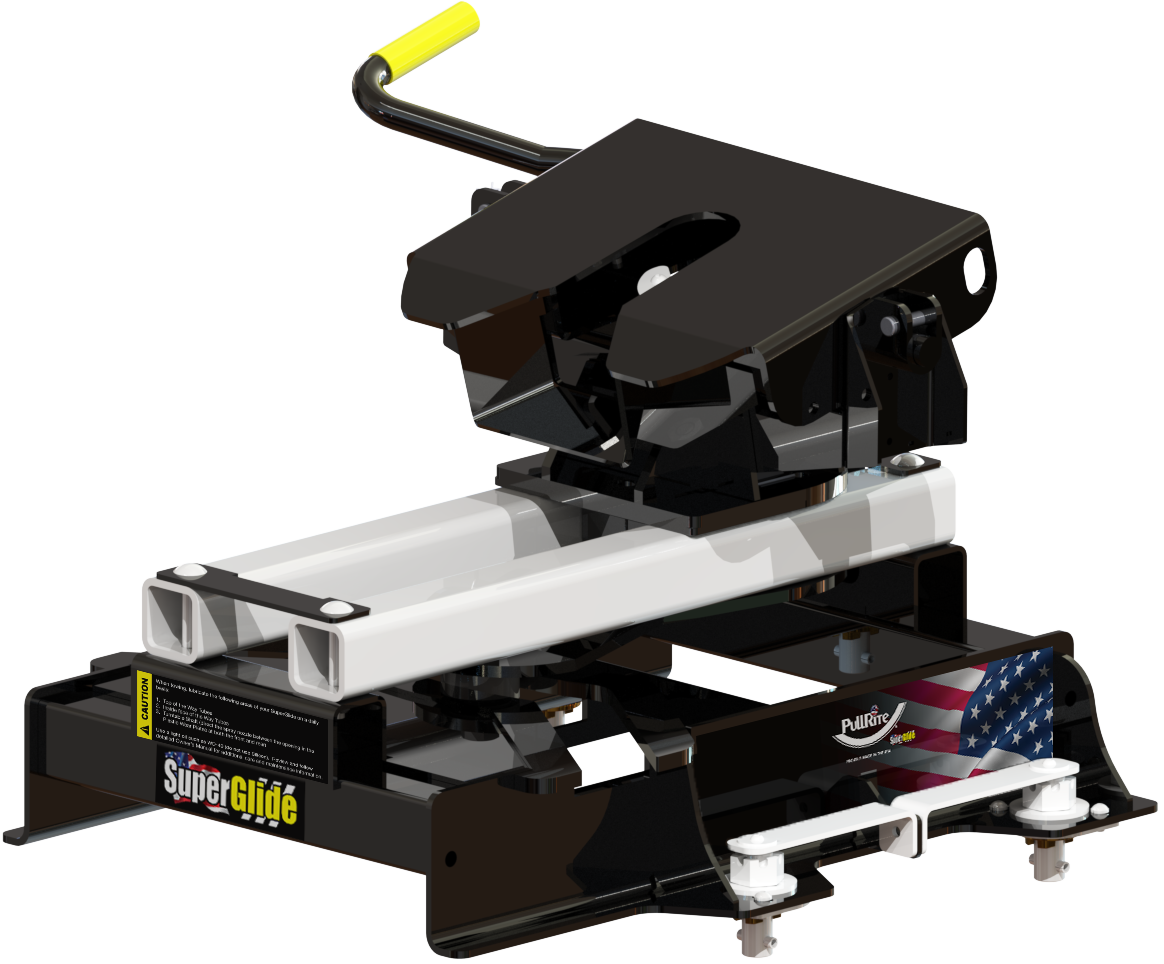 COMING SOON!
New #4500 OE Puck SuperGlide for 2020 Chevy trucks with pucks!  This direct mount SuperGlide hitch, expected to rate 20K or more, is designed specifically for the new 2020 Chevy mounting points.  All the same great features and benefits of our OE Puck SuperGlide line of fifth wheel hitches!  Keep checking back for it's release date!