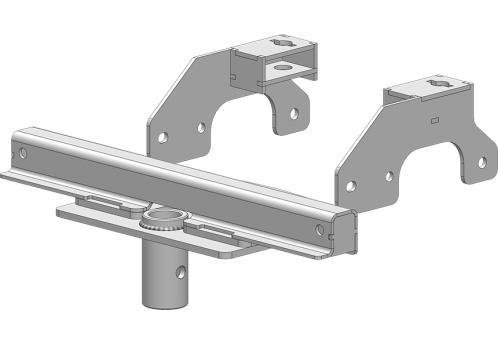 Views
SuperGlide B&W Adapter Mounting Kit 1999-2010 Chevy 2500 & 3500
Need to tow your gooseneck and fifth wheel trailers with the same short bed truck?  Simply add our adapter to your B&W gooseneck hitch and experience SuperGlide's worry-free automatic slide!
Description
Includes Adapter and removable SuperRail & Posts, Mounting Brackets and Hardware. Mounting Kit seen here fits BOTH #4100 and #4400 SuperGlide Hitches.
For use with #4100 (16K) or #4400 (20K) SuperGlide hitches

Custom Mounting Brackets require a minimal, one-time installation

Fully removable for a clean truck bed

Fast and easy from gooseneck to fifth wheel towing
Notes/Limitations
A towing system includes each vehicle and component involved in towing. Each item in your towing system has a capacity or weight rating.  You trailer has a Gross Vehicle Weight Rating, or GVWR.  Your truck has a tow capacity, payload capacity, and possibly more. In addition, your fifth wheel hitch has a weight rating.  This weight rating must be at, or above, the GVWR of your trailer for you to tow safely.  In addition, if your truck can tow larger loads (has a larger capacity) than the rating of your hitch, your system is only safe to tow loads at the lower rating, that of the hitch.
Your mounting kit also has a weight rating, just like your fifth wheel hitch. Many times, these rating are designed to match. But, this is not always the case. Your mounting kit may be higher rated then your fifth wheel hitch, but it also could be lower depending on the components involved.  The lowest rating of any one component in the system becomes the rating of the entire system. If your mounting kit is rated to 18,000 lbs., and your hitch is rated at 24,000 lbs., the weight rating of the entire system will not be above 18,000 lbs.  Other components in the system could lower the actual system rating further.
It is the end users responsibility to ensure a safe towing experience. To this end, it is your responsibility to ensure that the truck, trailer, hitching components, and all other items involved are rated or have a capacity sufficient for the loads involved.